Interview with Rozalija Mutic
We talked with Rozalija Mutić, about tradition and its preservation, the owner of the ethnic room in Pogara.
I would like to thank you for your time and for talking to us as a part of our "Living history project". Firstly, can you tell us something about yourself?
My name is Rozalija Mutic and I am 67 years old. I was born in Pogar and have lived here my whole life. I completed a sewing and tailoring course and now also have additional handicraft skills such as crocheting, embroidery, knitting and weaving. Anything that can be done with my hands, I do.
How long have you been doing handicrafts? Who did you learn from?
It is all part of our tradition, this was done by our grandmothers, mothers, so as a child I loved handicrafts, but I am mainly self-taught. As I spend a lot of time sewing, after the war, I came up with the idea of creating an ethnic room. I found peace and comfort working on this project.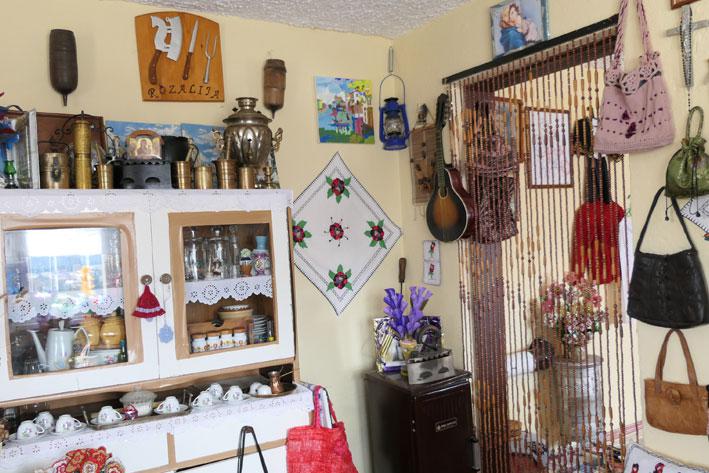 Where did you get the idea to create an ethnic room? How long have you been working on it?
I was a member of the Pogar Women's Forum where we had an ethnic room in the House of Culture. However, 10 years ago I left the Forum and started working on my ethnic room.
Where do you find inspiration for your work? What inspires you the most?
I find inspiration in everything I see. I recently started making flowers out of paper and plastic bags. My inspiration is all around me.
Do you sell your works?
I don't sell anything from this room, but I make new things if I do get a customer request.
Are you familiar with the Mining Project at the Veovaca and Rupice sites?
Yes, I regularly follow and read news about the Project.
In your opinion, what impact will the Project have on the life of this area?
I sincerely hope for a better life. Based on everything I've seen and read I think it will be a lot better than it is now.
What do you think will make the most progress when the mine opens?
I sincerely hope that the young people of this municipality will stop leaving the region and that this project will offer them jobs and a better life with the opening of the mine.
Do you think that Vareš will experience its resurgence?
I'm looking forward to it and I'd love it to happen.
Do you have a message about preserving the tradition for the end?
Tradition is of great importance to me, but I don't think it is preserved to a great extent. I would like to tell young people to start taking an interest in the tradition of their people, to learn how to make handicrafts and keep it from disappearing.